Eyeglass Temples 
Plastic and Metal Comparison

If my clients ask me, which are the best eyeglass temples, I don't have an easy answer. The choice depends on specific features, mainly is about material which the temples are made from and if you are allergic to certain materials.
The use of temples on eyeglasses

The temples (also known as eyeglasses arms) are parts that will secure the frame front and keep it on your ears.
The material is the most influential factor which determines the properties of the temples and we have two categories that are widely used:
Because of the materials importance, I will show you next the temples from this point of view.
Plastic and metal temples comparison
There are differences between plastic and metal temples in terms of strength, flexibility, your skin has individual reactions to these materials, so you must choose according to what suits you and what you like. 
The following is a comparison of various features like ...
Resistance to breaking and bending

The metal used to produce eyeglass temples is usually more robust to breaking and bending than plastic. We have different durable metals as titanium, zinc, nickel, steel. 
For plastic, there are some derivatives of it like nylon or polycarbonate which is strong and light, used mainly for sports glasses.
Your choice will depend on the activity where you use your glasses: reading, sports, prescription eyeglasses for all day.
If you bend or break the eyeglasses arms, they can be changed.
If it is an original company frame, your temples can be changed with ones exactly the same. If not you can choose other similar temples.
The flexible materials like titanium have a better breaking resistance.
There is a solution for flexibility for both metal and plastic arms that are ....
Spring hinged temples
Here the eyeglass temples are attached on specific spring hinges that allow a wider opening of the temple without breaking.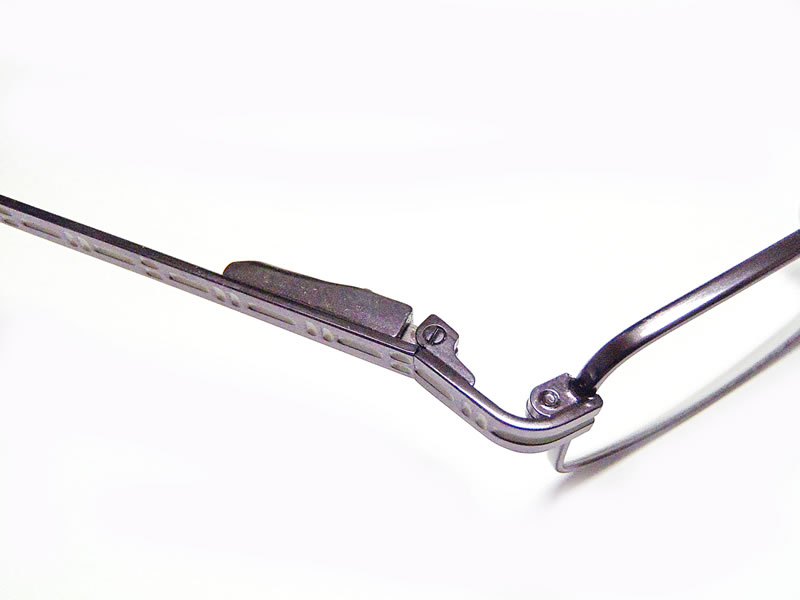 Unlike the spring hinged temples, the simple ones do not open wide and are more rigid. If the glasses are too tight on your head, they will leave marks on the sides of your face.
If you want simple temples with no spring hinges, then be careful to be the right size for you, and do not worry, the optician can adjust them without problems for the size of your skull.
When it comes to fix the temples useful can be ...
The temple tips
In case of metallic temples, at the end, they have removable components, called temple tips or endpieces. These components allow adjusting the temple length and how tight it will be on your face.
The plastic arms don't have temple tips. They are made in one piece and non-removable.
The main feature of the temple tips is flexibility so the temple can be adjusted according to the shape of your ears. They are mobile on the temple also, which help in adjustment according to the head shape and size.
The material used on temple tips is plastic, silicone or rubber in a variety of colors and shapes.
An obvious advantage of the fact that they are removable, is that they can be replaced whenever wear out, so you don't need to change the frame temples.
Skin allergies
We're talking about skin allergies because the temples are in direct contact with your skin and can occur  certain inconveniences if you are allergic to some materials.
The most common allergy is caused by metal, namely nickel temples. Studies have shown that up to 10% of end users are allergic to this material.
If you are allergic to nickel, your skin will redden or worst, irritation will appear at the contact place of the metal temple. In this situation, you should avoid nickel frames.
Titanium frames are particularly recommended for spectacle wearers already sensitized to nickel.
Ambient temperature
In colder areas, you should consider that the metal on the skin is extremely cold and can cause irritation, while the plastic is not.
Also in the heat, a metal frame of a poorer quality, will discolor and mark your skin, depending on how much you sweat.
A solution to this problem is the plastic that leaves no traces of paint in touch with a sweaty skin.
This problem will not happen with high quality metal frames because they use high quality paint.
The choice of eyeglass temples is finally yours. An optician can only guide you with useful information like above, information that should help you choose the best for you.
 Q

uick

L

inks - 
Eyeglasses Parts
Was this information useful?
1. Like Perfect-Eyeglasses-Guide.com on Facebook.
2. Share this article with your friends: