The Top Selling Armani Eyewear

While the fact that Armani eyewear is quite low-key inevitably makes it an easy and popular choice for most people, these styles may not be ideal for everyone. Especially seeing as most of them are on the squarer or more rectangular side, which does not agree well with squarer face shapes.
Armani's classic and affordable eyewear does, however, cater to almost all other face shapes as it does offer a large number of traditional square and rimless styles.
Armani is one of the most well-known Italian fashion houses. The famous brand was founded by Giorgio Armani in Milan, in 1975.
Since then it has expanded and gained fame worldwide for its haute couture, ready-to-wear creations, and accessories, like watches, glasses, and leather goods, such as purses. 
Emporio Armani logo
Emporio Armani is the brand's primary label and the only one which is designed personally by Giorgio Armani. It shows at every edition of Milan's Fashion Week.
He made this label of high-end, high-quality ready-to-wear pieces, inspired by current trends, and is sold at Armani boutiques, online, and through concessions in luxury department stores. 
Emporio Armani is known for a lot of their pieces, including watches and eyewear, but also for their underwear adverts, which have featured global stars such as David Beckham, Cristiano Ronaldo, and Megan Fox. 
While all Armani logos have similar features, the Emporio Armani symbol might be the most recognizable of all, with its fractured, single colored eagle shape, which has become one of the label's trademarks. You can find this design on the frames of Emporio Armani's eyewear. 
Armani eyewear collections
Emporio Armani is actually very popular as an eyewear brand, possibly because of the classic, understated designs of their frames, which don't usually come in huge sizes or very bright colors.
In fact, although you might be able to find one or two trendier styles, with slightly thicker, bolder, or even lightly patterned frames, Armani is pretty much a timeless label when it comes to their eyewear.
Those rimless styles, like Emporio Armani EA 1004 3011 and the Armani EA 1015 3008 are great matches for those with heart or diamond shaped faces, because they complement higher cheekbones and help balance the face. They are also especially good for the latter because they draw attention away from their wider forehead.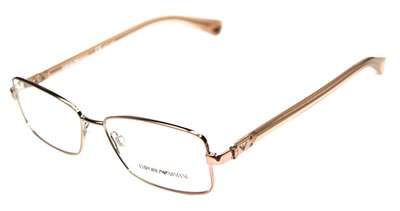 Emporio Armani EA 1004 3011
Emporio Armani EA 1015 3008
Bolder, squarer, or more rectangular frames like Emporio Armani EA 3023F 5017, and the Armani EA 3018 5042, which are also among Emporio Armani's most famous, however, are best for rounder or oblong faces.
Their more defined edges allow these shapes to look more balanced. The latter are especially useful for those who are very round, because they are higher on the forehead, accentuating the effect.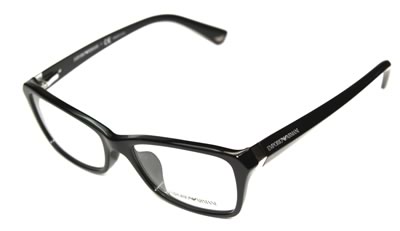 Emporio Armani EA 3023F 5017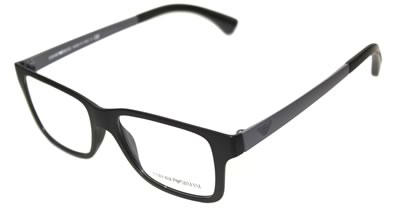 Emporio Armani EA 3018 5042
Finally, although their proportioned features allow them to wear just about any glasses they fancy, Emporio Armani also has styles that are especially good for those with the perfectly balanced oval faces. The Armani EA 3016 5017 and the Armani EA 3003 5055 glasses will be perfect on oval faces because they show all their features, without obscuring them with bold frames.
Emporio Armani EA 3016 5017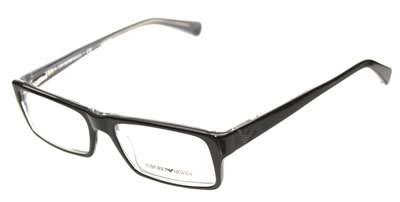 Emporio Armani EA 3003 5055
To sum up, Armani eyewear is a great brand for those who look for affordable designer frames which are classically, elegantly, timeless, or simply more low-key or more professional looking, which will pass the test of time and fashion, no matter the season.
M

ore

D

esigner

E

yewears
Was this information useful?
1. Like Perfect-Eyeglasses-Guide.com on Facebook.
2. Share this article with your friends: