Gucci Eyewear
The Tasteful Selections
Gucci eyewear isn't overly extravagant or attention drawing. In fact, most of the brand's traditional glasses have smaller, understated rectangular or square shaped frames, which standout for their detailing more than anything else. While some may pass over them for something more eye-catching, many people prefer these more tasteful eyewear selections.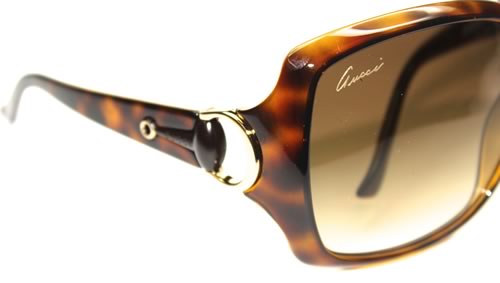 The Gucci Logo
It isn't surprising that the logo of the best-selling Italian brand is very well known. The iconic double G logo, which is elegantly interlaced, was created by Guccio Gucci's son, Aldo, in 1933. It, obviously, refers to the brand's founder's initials and is easy to distinguish from other brands.
This version of the logo is frequently used as a monogram that is printed or engraved on pieces like sunglasses. The full name "Gucci" is, also, used as a logo, namely on handbags.
Gucci Logo
Gucci is an Italian luxury clothing and accessories brand, which is part of the French Kering group.
The brand was founded in Florence by Guccio Gucci in 1921 and has since grown and become the bestselling Italian brand, as of 2013.
Besides the apparel and leather goods for which the brand is known and famous, Gucci has also ventured into other areas entirely, like the designing of car interiors and partnerships with charity organizations like UNICEF.
The Gucci eyewear collections
Notable exceptions are sunglasses like the Gucci GG 3609 sunglasses and the Gucci GG 3584 sunglasses. Both of these are quite big, statement-making, square frames with lots of detailing. These are perfect for a round face, as they help in balancing out the face or anyone who's looking to draw a little more attention.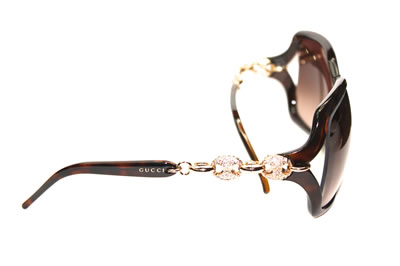 Gucci Sunglasses GG 3584
While styles with eye catching patterns like the one in the Gucci GG 3598 eyeglasses frames, which are small but bold suiting an oval face nicely, are common; medium sized, solid colored frames are more representative of the elegant Gucci style.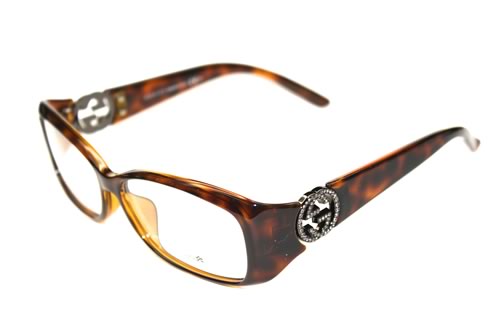 Gucci Eyeglasses GG 3598
Another classic style that Gucci does very well is the professional, rimless glasses, like the Gucci GG 2237 PDC eyeglasses and Gucci GG 2844 NVX eyeglasses styles. While these styles are quite different, as the second features stunning, eye-catching detail, they both share the rimless front. These frames are among the best glasses styles for people with heart and diamond shaped faces to wear, as they complement their prominent cheekbones.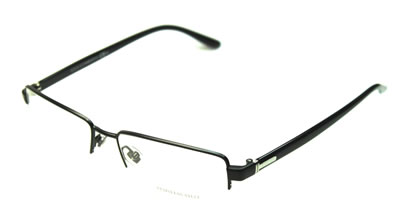 Gucci Eyeglasse GG 2237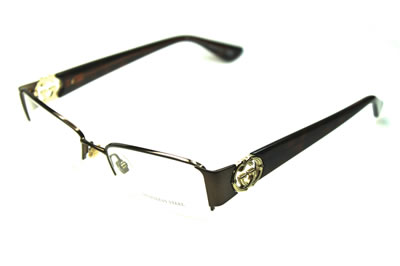 Gucci Eyeglasses GG 2844
Gucci clearly excels at designing quite elegant, professional styles that are great investment pieces, as they are more likely to outlast more unusual trends, unlike the statement glasses, which are quite popular at the moment. So for those who are looking for a pair of glasses to pass the test of time, Gucci is definitely somewhere to consider having a look.
M

ore

D

esigner

E

yewears
Was this information useful?
1. Like Perfect-Eyeglasses-Guide.com on Facebook.
2. Share this article with your friends: