Stylish Prada Eyewear for Bold Spirits

While Prada eyewear does have eyeglass styles to suit most people's appearances, as well as, personality, it isn't, in general, for the faint of heart.
The brand's most recognizable styles tend to have big, bold, and loud frames, which are almost impossible to miss when you see them. It calls mostly to those who are fashion-oriented or who have a particularly quirky fashion sense.
Prada and Prada eyeglasses are one of the most famous and popular Italian fashion houses in the world. The company specializes in a number of fashion items, such as leather goods, fashion accessories, like handbags and shoes, as well as, watches and eyewear, among several others.
Prada was founded in 1913 by Milan-based fashion designer Mario Prada and is currently headed by Mario's youngest granddaughter, Miuccia. Originally a family owned leather and luggage shop in Milan, Prada is now a global empire and owner of other big fashion names, such as Miu Miu.
There are over 250 boutiques worldwide under its famous brand name. 
Prada logo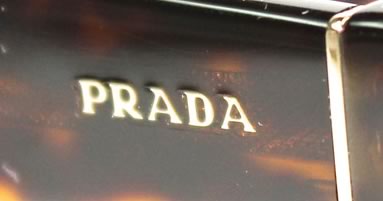 Prada Logo
Prada's unmistakable logo, which works as its trademark and sign of authenticity, is one of the most recognizable of the industry, thanks to its apparent simplicity.
While the logo consists of the brand name only, the fact that each character is designed in a singular font is what makes the words – and thus the logo – standout.
The fact that the Prada logo is so simple allows it to be displayed on all the brand's luxury products, including those where is less space available, such as glasses and sunglasses, adding an iconic touch to the brand's already extravagant pieces.
Prada eyewear collections
Here we start with the Prada SPR 07P sunglasses with its bold, thick, patterned frame. They are a perfect match for a round face, as they help sharpen the wearer's features. 

For similar but slightly more subtle styles, there are the Prade VPR 14Q eyeglasses. These frames, while still thick and patterned, are a fair bit smaller, but, also, maintain the rectangular shape, which means they work well with round faces, too. They are especially great for oval and oblong faces, which are complemented by sharper edges but tend to be overwhelmed by oversized frames. 
Aside from their signature styles, Prada, also, features a range of more classic shapes, such as those of the Prada VPR 03P glasses, which are one of the brand's very best sellers. These classic frames feature a smaller and decidedly rounded shape that works wonders for a square face shape, which isn't something easy to find these days.
Also great for those with square faces, as well as, the more unique heart shapes, are styles like that of the Prada SPR 55Q sunglasses. These are very much a classic aviator shape, which is timelessly stylish, and suits those with harder edges to their faces, thanks to their rimless frames. 

All in all, Prada eyewear may be aimed at those who display a bold personality and personal style. But they don't leave anyone behind and cater to almost every face shape and fashion sense, which is probably why the brand is so popular among glasses wearers. 
M

ore

D

esigner

E

yewears
Was this information useful?
1. Like Perfect-Eyeglasses-Guide.com on Facebook.
2. Share this article with your friends: