Versace Eyewear

Top 4 Sunglasses and Who Should Wear Them
When you have a look at Versace eyewear, you can expect big, bold, daring frames, which are always right on trend because they flatter a lot of facial types. Although the brand's sunglasses standout for being big and bold, you found a bit of everything in their top 4 most popular styles.
Versace Medusa Logo

The Versace logo, though not always fully present in their pieces, especially those with limited space like eyewear, consists of the head of Medusa, a Greek monster with snakes for hair and who turned those who looked at her to stone. 

This logo has many meanings, but one of the most literal, easiest to understand, is that the brand stuns people with the beauty of its creations.
| | |
| --- | --- |
| However, you're more likely just find the word "Versace" written in all upper case letters in their custom font, when you purchase items like their favorite sunglasses. | Versace Logo |
Versace is an Italian luxury fashion house, created by Gianni Versace in 1978. Although the brand is commonly referred as Versace only, its full name - Gianni Versace S.p.A. – is still connected to its founder. 
The Versace brand has many branches and lines of products, including clothing, accessories, fragrance, and even hotels.
Furthermore, the brand has gathered media attention with its outrageous creations, from Elizabeth Hurley's black dress to Jennifer Lopez's green dress, and more recently, Angelina Jolie's customized wedding dress, designed by their Creative Director, Gianni's controversial sister, Donatella.
Top 4 Sunglasses
1 - One of the top sellers for Versace Sunglass is their VE 4221
Versace VE 4221 sunglasses are humongous, butterfly shaped sunglasses in a tortoise pattern, featuring a very noticeable gold Versace Medusa head on the hinges. These frames work well with oval, square, and heart shaped faces.
2 - Another favorite Versace eyewear style is the VE 4044-B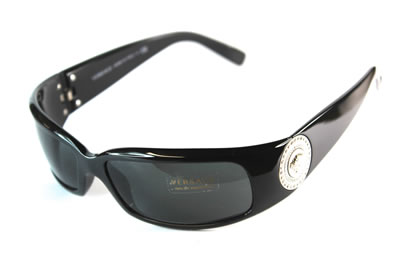 Versace VE 4044-B eyewears are sporty wrap-around black shades with a rectangular lens shape and feature the Versace logo as a gold medallion on the hinges. These eyeglass frames work well with oval and round shaped faces.
3 - A well-known style is the Versace VE 4249
Versace VE 4249 sunglasses are simple, square shaped black frames with the Versace name in a subtle gold plaque on the sides. These sunglasses give an edgy look to oval and round shaped faces. 
4 - Finally, for something a little different, there is the Versace VE 2148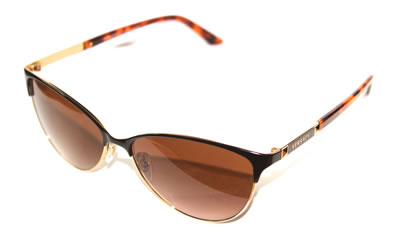 Versace VE 2148 eyewears are stylish frames and a subtle version of horn-rimmed glasses with a cat-eye shape. These are thinner than usual semi-rimless frame with a dark color in the front, tortoise coloring on the sides and golden lenses. Cat-eye shaped glasses work best for oval, square, and heart shaped faces.
If you're having a hard time deciding on the best frames for your face, keep in mind that the most important part is your attitude. Fashion is all about having the confidence to carry the glasses, more than having the recommended face for the style.
And anyway, it shouldn't be hard for any one person to find their perfect pair of glasses among the Versace eyewears line – as we just saw, it's quite an eclectic mix that they offer in their range.
M

ore

D

esigner

E

yewears
Was this information useful?
1. Like Perfect-Eyeglasses-Guide.com on Facebook.
2. Share this article with your friends: