Coach Eyewear

You Can Never Go Wrong with Them 
Coach eyewear, much like the brand itself, is easily recognized by its understated simplicity and classic, almost vintage, appeal. Coach is, also, more of a prescription eyewear than sunglasses brand, as proved by the popularity of styles like the Brooklyn, Montana, and Addison frames. These are all edgy, clean, rectangular frames. They aren't too big or too bold, making them a perfect choice for those who don't like to change their eyewear often, which should best the test of time.
The Coach logo
The traditional Coach logo, featuring the carriage and horses, was designed in the 1960s by Bonnie Cashin. It is one the most easily recognized of its kind.

However, nowadays the brand logo more often only features the actual word "Coach" in its own personalized typeface, giving it a more modern look.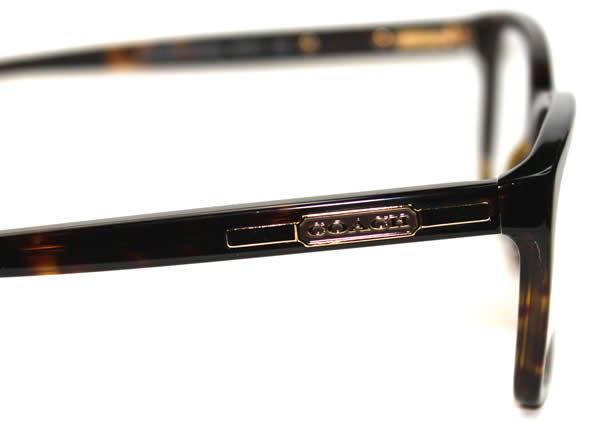 Coach Logo
Coach is one of the most famous American luxury fashion brands. The New York based brand was founded in 1941 as a small family business specializing in small leather goods.
Their famous leather handbags came in 1946, when Miles Cahn and his wife joined the brand, which they soon took over and later bought, completely revolutionizing its image and products. It was, also, still under Cahn's ownership that the brand started expanding their product line, including their first eyewear collections.
The brand has since changed ownership and expanded internationally, particularly during the 90s, and is now a multi-billion enterprises, known for their handbags, luggage, fragrances, and watches among other luxury accessories.
Additionally, Coach, also, sponsors charitable causes both through their own Foundation, created to empower women and children worldwide, and other select projects.

The Coach eyewear colections
Coach Addison
The Coach Addison Eyeglass is the most square and oversized style but has a thinner frame. While not the ideal, this style will work nicely for rounder faces and will do wonders for those with longer faces as the shape helps balance proportions.
Coach Brooklyn
The same could be said about the Coach Brooklyn eyeglasses. However, with their more rectangular, narrower shape and bolder lines, these will, also, be ideal for oval faces. People with oval faces can carry virtually any frame but are more flattered by smaller frames, which won't hide their beautifully balanced shape.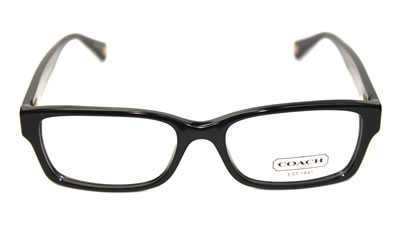 Coach Brooklyn Eyeglasses

Coach Montana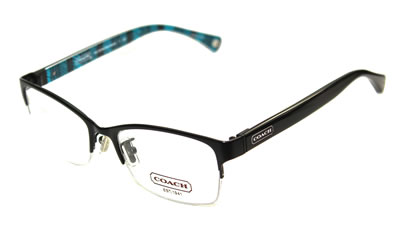 Coach Montana Eyewear
As for the classic Coach black Montana glasses, they are, also, a rectangular frame with bold sizes but rimless on the bottom. It is a rare shape for glasses nowadays, so these would be a hit with people who have heart and diamond shaped faces, as the rimless aspect is quite flattering on their prominent cheekbones.

Coach Keri Sunglasses
Contrasting with the prescription glasses, Coach sunglasses are much bolder, featuring thicker frames and more eye-catching shapes. The popular, elegant Coach Keri Sunglasses, for instance, may be black, but they certainly turn heads with their distinctive cat-eyed, butterfly shape. This shape indeed favors heart and squared faced people, as they help counteract their sharpness or imbalanced shape to give it a gentler, attractive look.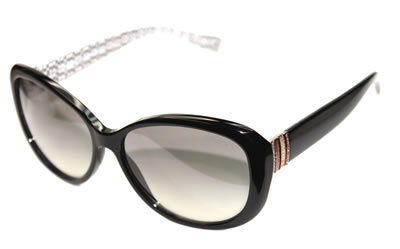 Coach Keri Sunglasses
In short, Coach eyewear are the perfect choice for most face shapes. They are the ideal option for people who prefer a classic look that can be worn every day and for any occasion. Their understated elegance looks great without drawing undue attention to the wearer.
Coach eyeglasses are a great choice for anyone looking for trusted, high-quality frames as a primary set of frames or as a backup pair. You just can't go wrong with the Coach line.
M

ore

D

esigner

E

yewears
Was this information useful?
1. Like Perfect-Eyeglasses-Guide.com on Facebook.
2. Share this article with your friends: